"
It's what you get for trying to kill my wife
"
 

— Police Officer, BULLY - Part 2
This Unnamed Police Officer is a minor character from the BULLY series. He was the deuteragonist to Victim Girl until his death in BULLY - Part 2.
Appearance
This Police Officer had an obese figure with a peach skin tone. He wore a blue police officer hat with a blue police officer shirt. He wore a black neck tie and a pair of black pants with a pair of black shoes.
Story
Events of BULLY - Part 1
He first appears with his comrade to save Victim Girl from being killed by Blue Boy. He soon cuffs Blue Boy and Red Dress Girl and comforts Victim Girl. They soon get married and attends his comrade's funeral.
Events of BULLY - Part 2
He transports Red Dress Girl and Blue Boy to the prison. He forcefully throws Red Dress Girl into her cell, while Red Dress Girl threatens to do something bad to him. He laughs a her threat and walks away. He soon overhears Red Dress Girl threatening to kill all the guards in the prison and informs her about his recent wedding. He punches Red Dress Girl, saying he will get revenge on them for tormenting his wife.
While conversing with another guard in the cafeteria, he hears Red Dress Girl and Blue Boy break out of their cells. He heads upstairs to investigate, only to be taken hostage by Blue Boy while Red Dress Girl murders him and steals his keys.
Events of Heathens Twenty One Pilots (ROBLOX MUSIC VIDEO)
He constantly appears onscreen, torturing Red Dress Girl with a chain and questioning her the people she knows.
Death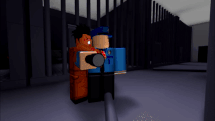 The Unnamed Policeman was killed in the cell block when investigating a sound upstairs. He was held hostage by Blue Boy until Red Dress Girl stabbed him three times in the stomach. The two soon took a selfie with his corpse and showed the picture to Victim Girl in BULLY - Part 6.
Appearances Episodes
BULLY - Part 1 (first appearance)
BULLY - Part 2 (death)
BULLY - Part 7 (last appearance, pictured; cameo)
Music Videos
Heathens Twenty One Pilots (ROBLOX MUSIC VIDEO) (death)
Community content is available under
CC-BY-SA
unless otherwise noted.