Bethany (a.k.a. Beth) is one of the main antagonists in SCHOOL TRAGEDY. She is a member of Kendall's gang.
Appearance
In appearance, Bethany is strikingly similar to Megan. She has a slim build with peach-coloured skin. Like her, she has walnut brown, long hair. She wears a light pink crop top. She wears light denim shorts (contrary to Megan's darker ones). She wears a pair of knee length boots. From Part 2 of the series, she obtained a riffle.
Relationships 
Bethany was put under the custody of Kendall after she and Megan ridiculed her for being sad after what the two have done to her. Despite this, she never rebels and freezes in place whenever Kendall shouts FORMATION! Bethany's cruelty towards Kendall's original look finally had consequences in Part 3, when she and Megan were muted by the Speech Mirror at the prom.
Before the events of SCHOOL TRAGEDY, she and Megan met and became friends (or are possibly sisters). They help each other mutate Kendall so she looks prettier and gave her the urge to kill. In the end of the series, Megan was also muter by the Speech Mirror and shot by Jay at the prom.
Bethany and Chloe have poor relations.
Bethany and Jay didn't show any relation other than nemesis; after killing Markus, he got revenge on them.
Death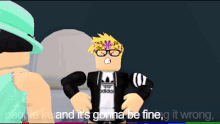 Bethany was killed by Jay in the Gonna be fine (ROBLOX MUSIC VIDEO). She was shot by Jay who used a red laser gun to disintegrate her. Jay killed her to avenge the death of his late boyfriend and to prevent her from killing Chloe.
Appearances Episodes
SCHOOL TRAGEDY - Part 1 (first appearance)
SCHOOL TRAGEDY - Part 2
SCHOOL TRAGEDY - Part 3
Music Video
Gonna be fine (last appearance; no lines, death)